Black-tailed Jackrabbit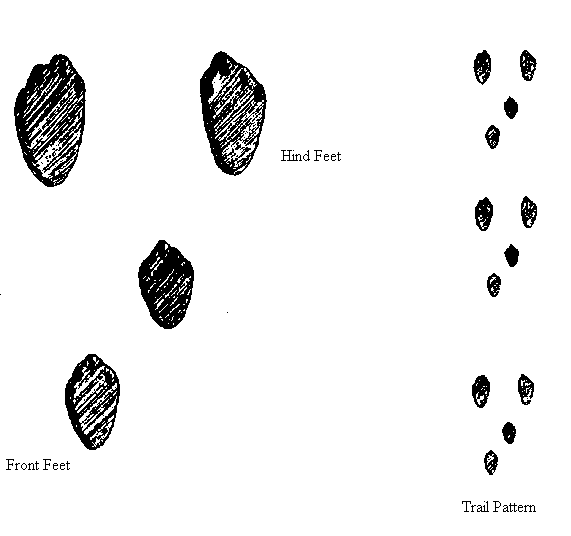 Black-tailed Jackrabbit Tracks



Natural History of Black-tailed Jackrabbits

The black-tailed jackrabbit is the most widespread jackrabbit. It lives on river bars, in meadows, barren areas, and sand dunes. The jackrabbit is a hare, which means its young are born with fur and with their eyes open. They are most active in the late afternoon, preferring to spend the day resting in a form, a shallow depression the size of its body that the animal scoops out of the dirt.
Jackrabbits eat grasses and leafy vegetation in the summer. In winter, they feed on woody or dried vegetation. Sometimes these social animals will feed in groups.
Jackrabbits have excellent hearing. Their ears can be 5 inches long. In addition to collecting sound, the large ears serve to disperse some of the animal's body heat on hot days.
Jackrabbits can weigh three to six pounds. Although they are larger than cottontails, the hind tracks may appear smaller because jackrabbits tend to run on the toes of the hind feet. The long heels do not leave marks when the animal is running like this. The hind feet can be 5¾ inches long. Jackrabbits rarely walk. They hop five to ten feet at a time. At top speed, the animal can leap 20 feet or more. They can run 30 to 35 miles per hour over a short distance. When running, the animal jumps exceptionally high every few leaps to get a look around.
The white underside of the tail is flashed when escaping from a predator. This may confuse the predator or warn other jackrabbits of danger. Jackrabbits will also thump the ground with their big hind feet to signal danger.
Scat is a spherical pellet about ½ inch in diameter.
The home range of a jackrabbit is about ten acres. Jackrabbit young are born in a deep form lined with soft materials, including fur from the mother's chest. These animals are prolific, with one to four litters of up to eight young born each year. Sometimes the mother will place the young in separate forms to decrease the chances that a predator will find them all. She stays away from them during the daytime and returns several times a night to nurse the young. This is a way of avoiding attracting the attention of a predator. The young can take care of themselves in one month.
Common predators include foxes, owls, hawks, snakes, and coyotes.
Tracks in mud sometimes show the hair on the bottom of the feet. In sand, the trail pattern, stride length, and the size of the imprints are the best indicators of jackrabbit tracks.



Personal Notes on Black-tailed Jackrabbit

This is an animal whose tracks can be found on beaches and river bars in the area. The first time I visited the dunes near Samoa, I noticed numerous jackrabbit trails crossing the wind-blown sand. If you're a beginning tracker, these are good places to go to learn. The open expanses of sand invited you to follow the many trails. Jackrabbits can make some incredibly long leaps. You may be surprised what other animals inhabit the dunes!

Find jackrabbit and other animal posters, greeting cards, t-shirts, hats, and more in my new store.

Now available: "Animals Don't Cover Their Tracks - An Introduction to Animal Tracking" on CD! (Version 3.0) New drawings, more species, more photos, more extensive sections on tracking humans, more detailed directions for plaster casting, mystery tracks section, tracking stories section, and more. The CD features over 100 species, including special bonus sections with the tracks of some African and Australian animals. A large section on tracking lost people for search and rescue is included, with over four pages of photos showing the details of tracks and signs people leave. Easy to use format. This web site is limited by bandwidth, but the CD-ROM is not. The CD is available in my online store at: www.dirt-time.com Works with Mac or PC. Happy tracking!!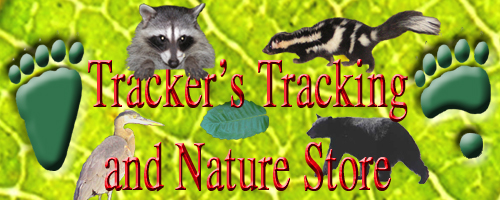 What else can you find in the nature store? Beartracker's animal tracks coloring book, T-shirts, sweatshirts, journals, book bags, toddler and infant apparel, mouse pads, posters, postcards, coffee mugs, travel mugs, clocks, Frisbees, bumper stickers, hats, stickers, and many more items. All with tracks or paw prints, or nature scenes. Custom products are available. If you don't see the track you want on the product you want, email me and I can probably create it. Proceeds from all sales go to pay the monthly fees for this web site. You can help support this site as well as get great tracking products! Thank you!
Also visit these fine stores for more products of interest:

NDN Pride shop - For Indian Pride items for all tribes. Custom items available on request.

ASL Signs of Love - For anyone who uses or is learning ASL, American Sign Language. Custom name items and more are available here.

Sales from all stores give commissions to Beartracker's Animal Tracks Den, which helps keep this site online as a free service. We are celebrating ten years online this year!




Got a jackrabbit story? E-mail me and tell me about it.
Back to Animal Tracks of Humboldt County
Copyright © 1997-2007. Text and drawings by Kim A. Cabrera