Coyotes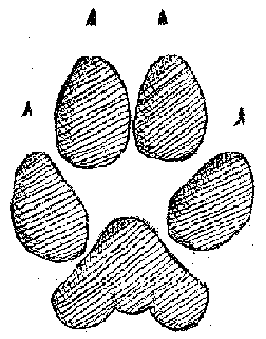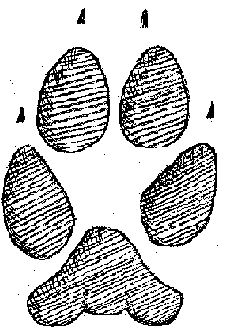 Coyote Tracks
Front track on the left. Hind track on the right.
Click to hear the coyotes howl.
(51K .au file)



Natural History of Coyotes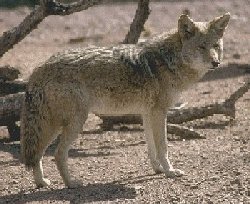 Coyotes are very intelligent animals that have been able to adapt to many different environments. Some live in major cities such as Los Angeles, feeding off human garbage and hunting mice and rats. In fact, the city of Los Angeles is home to about 3000 coyotes who roam the streets at night. They have adapted so well to the urban environment, that few people even know the coyotes are there.
Their tracks average 2Ĺ inches long. The hind print is smaller than the front one. The inner two toes are smaller than the outer two. Coyotes have great stamina. They are good runners and swimmers.
They can eat a wide variety of foods, such as small mammals, eggs, fruit, berries, nuts, rodents, fish, carrion, insects, grains, vegetation, and even human garbage.
Dens are usually located in hollow trees, stumps, rock piles, or in brush. A coyote digs its own den, but will sometimes enlarge the burrow of another animal.
Young coyotes, usually three to nine pups per litter, are born in a den or shallow burrow in April or May. After they are about ten weeks old, the pups begin hunting together. By fall, they can survive on their own. Coyotes hunt both night and day.



Personal Notes on Coyotes

†

The coyote has a wonderful voice. I remember many nights when I sat up late listening to the coyotes howling at each other. It is a spine-tingling sound. I heard my first coyotes in the Hacienda Heights area of southern California. There were some wild areas in those hills back then. Coyotes and mountain lions hunted for deer and small mammals.

Joshua Tree National Monument (now a National Park) was another of my favorite coyote listening areas when I lived in southern California. Iíd get off work in Los Angeles and drive to Joshua Tree for a weekend of camping and exploring. Fascinating area.

Now, Iím up in the redwood country where coyotes are not as common. However, I do hear them occasionally in the Cuneo Creek area of Humboldt Redwoods State Park. (Californiaís largest redwood state park and my personal favorite park. Not to mention my first web site.) Sometimes, on a quiet night, the coyotes will begin their song. It always stops me in my tracks. (No pun intended.)

Find coyote posters, greeting cards, t-shirts, hats, and more in my new store.

Now available: "Animals Don't Cover Their Tracks - An Introduction to Animal Tracking" on CD! (Version 3.0) New drawings, more species, more photos, more extensive sections on tracking humans, more detailed directions for plaster casting, mystery tracks section, tracking stories section, and more. The CD features over 100 species, including special bonus sections with the tracks of some African and Australian animals. A large section on tracking lost people for search and rescue is included, with over four pages of photos showing the details of tracks and signs people leave. Easy to use format. This web site is limited by bandwidth, but the CD-ROM is not. The CD is available in my online store at: www.dirt-time.com Works with Mac or PC. Happy tracking!!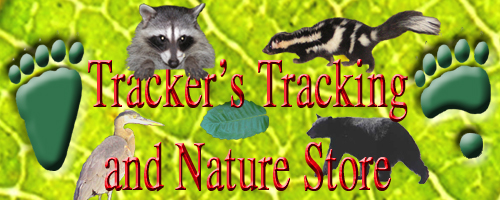 What else can you find in the nature store? Beartracker's animal tracks coloring book, T-shirts, sweatshirts, journals, book bags, toddler and infant apparel, mouse pads, posters, postcards, coffee mugs, travel mugs, clocks, Frisbees, bumper stickers, hats, stickers, and many more items. All with tracks or paw prints, or nature scenes. Custom products are available. If you don't see the track you want on the product you want, email me and I can probably create it. Proceeds from all sales go to pay the monthly fees for this web site. You can help support this site as well as get great tracking products! Thank you!
Also visit these fine stores for more products of interest:

NDN Pride shop - For Indian Pride items for all tribes. Custom items available on request.

ASL Signs of Love - For anyone who uses or is learning ASL, American Sign Language. Custom name items and more are available here.

Sales from all stores give commissions to Beartracker's Animal Tracks Den, which helps keep this site online as a free service. We are celebrating ten years online this year!




Got a coyote story? E-mail me and tell me about it.
Back to Animal Tracks of Humboldt County
Copyright © 1997-2007. Text and drawings by Kim A. Cabrera