Black-tailed Deer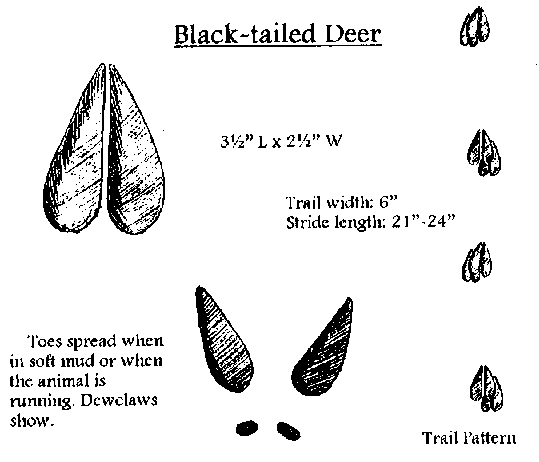 Black-tailed Deer Tracks



Natural History of Black-tailed Deer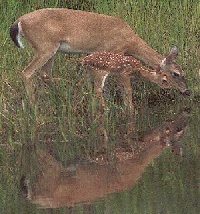 Deer are common in my region of northern California. The deer here are a subspecies of mule deer known as black-tailed deer. They come out around dusk and dawn to feed in the edge areas, the transitions between forest and field. They may be active at mid-day as well. Deer are also commonly seen feeding in fruit orchards.
Their heart-shaped prints are easy to identify and common in many areas. The pointed end of the print indicates the direction of travel.
Deer scat is an oval pellet. The pellets are easy to recognize by the dimple on one end and the point on the other end.
Their large ears, from which mule deer get their name, can move independently.
When the young are born, they have spots and lack scent. This enables them to hide from predators. They spend a lot of time curled up on the forest floor, sleeping. The spots provide camouflage. The lack of scent means predators can't smell them. Fawns can walk when they are only a few hours old.
When deer are walking, you can tell whether the track maker was a buck or a doe. Males tend to have wider shoulders, so the hind tracks (the ones on top) will fall to the inside of the line of travel. The doe's wider hips will cause the hind tracks to fall to the outside of the line of travel. This is true only when they are walking. Bucks have antlers which are shed once a year. The antlers of black-tailed deer (and mule deer) are forked. They don't branch from one main beam like those of the white-tailed deer do.



Personal Notes on Black-tailed Deer

There is a high population of deer here where I live on the northern coast of California. I see them feeding along the busy highway, in pastures with the cattle, in orchards, and everywhere on the property I caretake. I've seen them out feeding in the rain and even lying down to rest in the open when its raining. They seem oblivious to it. Whenever I arrive home after dark, I see the deer in the field near my place. Their eyes reflect my flashlight beam and show up as two bright dots in the darkness. It's always fun to see the does with their new fawns.
Find deer posters, greeting cards, t-shirts, hats, and more in my new store.
Now available: "Animals Don't Cover Their Tracks - An Introduction to Animal Tracking" on CD! (Version 3.0) New drawings, more species, more photos, more extensive sections on tracking humans, more detailed directions for plaster casting, mystery tracks section, tracking stories section, and more. The CD features over 100 species, including special bonus sections with the tracks of some African and Australian animals. A large section on tracking lost people for search and rescue is included, with over four pages of photos showing the details of tracks and signs people leave. Easy to use format. This web site is limited by bandwidth, but the CD-ROM is not. The CD is available in my online store at: www.dirt-time.com Works with Mac or PC. Happy tracking!!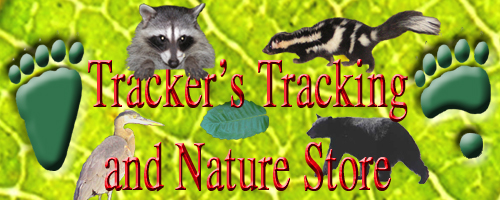 What else can you find in the nature store? Beartracker's animal tracks coloring book, T-shirts, sweatshirts, journals, book bags, toddler and infant apparel, mouse pads, posters, postcards, coffee mugs, travel mugs, clocks, Frisbees, bumper stickers, hats, stickers, and many more items. All with tracks or paw prints, or nature scenes. Custom products are available. If you don't see the track you want on the product you want, email me and I can probably create it. Proceeds from all sales go to pay the monthly fees for this web site. You can help support this site as well as get great tracking products! Thank you!
Also visit these fine stores for more products of interest:

NDN Pride shop - For Indian Pride items for all tribes. Custom items available on request.

ASL Signs of Love - For anyone who uses or is learning ASL, American Sign Language. Custom name items and more are available here.

Sales from all stores give commissions to Beartracker's Animal Tracks Den, which helps keep this site online as a free service. We are celebrating ten years online this year!




Got a deer story? E-mail me and tell me about it.

tracker@humboldt.net
Back to Animal Tracks of Humboldt County
Copyright © 1997-2007. Text and drawings by Kim A. Cabrera