Great Blue Herons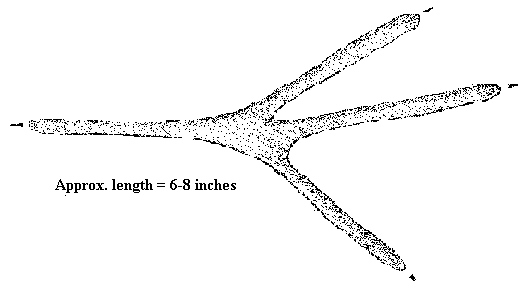 Great Blue Heron Track
Click here to hear a heron sound. (38K WAV file)



Natural History of Great Blue Herons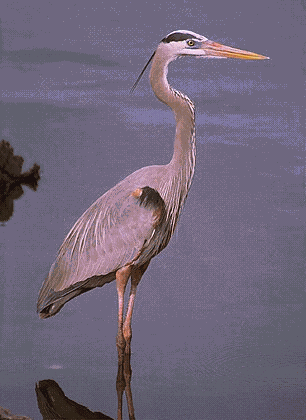 This large bird stands four feet tall and has a seven foot wingspan. It is the largest heron in North America. Its body is blue-gray and its head is white with black plumes projecting to the rear. It has a yellow bill.
The tracks are six to eight inches long. They show three toes facing forward and one back.
Herons live in fresh or salt water, wherever fish are plentiful. They are found in wetland areas, so you will see them along the banks of rivers or in marshes.
They eat fish, snakes, insects, mice, and frogs. They hunt by walking slowly through shallow water and striking at prey. They use the long, dagger-like bill to spear fish. You may see them standing motionless in the water with the head and neck folded back, waiting for prey. Herons will squawk when alarmed or startled.
Herons have special feathers that break up into powder. These are used as a sort of powder puff to clean their feathers. The powder is rubbed into the feathers and combed out using the comb-like claw located on the middle toe of each foot.
Tracks show three toes facing forward and one facing back. The large hind toe enables them to stand on one leg for long periods of time.
They nest in colonies in wetlands where vegetation provides safety for the nesting site. Nests are three feet across and built in trees. They are maintained year after year. Herons will make 30-mile round trips to feeding areas.



Personal Notes on Great Blue Herons

There is a heron rookery along the bay near where I live. Many herons roost there. It's a pretty fantastic sight to see them. In flight, the heron is monstrous in size. I have seen many herons slowly stalking prey along the shores of the Eel River, which runs by the property I caretake. They never hurry; just take their time and slowly wade through the shallows. When they strike, it's fast and accurate. Amazing hunters.
Find heron posters, greeting cards, t-shirts, hats, and more in my new store.
Now available: "Animals Don't Cover Their Tracks - An Introduction to Animal Tracking" on CD! (Version 3.0) New drawings, more species, more photos, more extensive sections on tracking humans, more detailed directions for plaster casting, mystery tracks section, tracking stories section, and more. The CD features over 100 species, including special bonus sections with the tracks of some African and Australian animals. A large section on tracking lost people for search and rescue is included, with over four pages of photos showing the details of tracks and signs people leave. Easy to use format. This web site is limited by bandwidth, but the CD-ROM is not. The CD is available in my online store at: www.dirt-time.com Works with Mac or PC. Happy tracking!!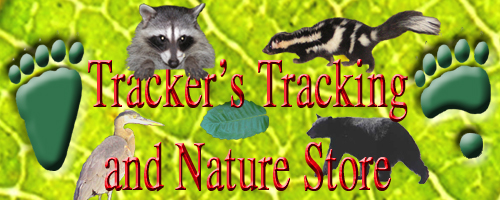 What else can you find in the nature store? Beartracker's animal tracks coloring book, T-shirts, sweatshirts, journals, book bags, toddler and infant apparel, mouse pads, posters, postcards, coffee mugs, travel mugs, clocks, Frisbees, bumper stickers, hats, stickers, and many more items. All with tracks or paw prints, or nature scenes. Custom products are available. If you don't see the track you want on the product you want, email me and I can probably create it. Proceeds from all sales go to pay the monthly fees for this web site. You can help support this site as well as get great tracking products! Thank you!
Also visit these fine stores for more products of interest:

NDN Pride shop - For Indian Pride items for all tribes. Custom items available on request.

ASL Signs of Love - For anyone who uses or is learning ASL, American Sign Language. Custom name items and more are available here.

Sales from all stores give commissions to Beartracker's Animal Tracks Den, which helps keep this site online as a free service. We are celebrating ten years online this year!




Got a heron story? E-mail me and tell me about it.
Back to Animal Tracks of Humboldt County
Copyright © 1997-2008. Text and drawings by Kim A. Cabrera