California Valley Quail



California Valley Quail Tracks



Natural History of the California Valley Quail

This is the state bird of California.
Quail spend most of their time foraging on the ground, therefore their tracks are found in a line, one after the other. Both male and female have a teardrop-shaped tuft of dark feathers on top of the head, although the female is not as boldly colored as the male.
After the breeding season, quail live together in groups called coveys. These groups of up to 200 birds are composed of parents and young.
Parents closely watch their young. While the group is feeding, one bird will act as a sentinel to warn the group of any approaching danger. If you're hiking along and startle a covey of quail, they will all burst into flight at once with a roaring of wings.
These small, plump birds roost in trees for safety. They can be found inhabiting parks and woodland edges.
Quail tracks are frequently found on sandy river bars.
Their calls can be heard in the summer. The call, which sounds like Chi-ca-go, is often given from a low perch.



Personal Notes on California Valley Quail

i frequently hear these birds when I'm out hiking. Many times, I have startled a covey of quail and they have taken wing with a roar. It's pretty loud when about 50 birds take flight all at once! The call of the quail reminds me of summer and many pleasant walks in my favorite campground, Albee Creek Campground. When the young quail are hatched, they follow their parents around in a little group. I've watched several broods grow up. The little quail will run and hide at the first sign of danger. One of the parents is always on the lookout for any predators. I've always enjoyed seeing quail.
Find quail posters, greeting cards, t-shirts, hats, and more in my new store.
Now available: "Animals Don't Cover Their Tracks - An Introduction to Animal Tracking" on CD! (Version 3.0) New drawings, more species, more photos, more extensive sections on tracking humans, more detailed directions for plaster casting, mystery tracks section, tracking stories section, and more. The CD features over 100 species, including special bonus sections with the tracks of some African and Australian animals. A large section on tracking lost people for search and rescue is included, with over four pages of photos showing the details of tracks and signs people leave. Easy to use format. This web site is limited by bandwidth, but the CD-ROM is not. The CD is available in my online store at: www.dirt-time.com Works with Mac or PC. Happy tracking!!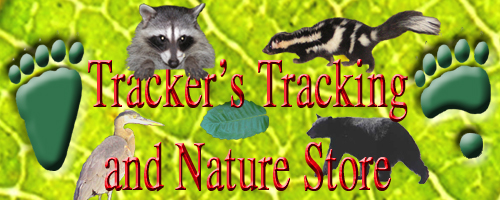 What else can you find in the nature store? Beartracker's animal tracks coloring book, T-shirts, sweatshirts, journals, book bags, toddler and infant apparel, mouse pads, posters, postcards, coffee mugs, travel mugs, clocks, Frisbees, bumper stickers, hats, stickers, and many more items. All with tracks or paw prints, or nature scenes. Custom products are available. If you don't see the track you want on the product you want, email me and I can probably create it. Proceeds from all sales go to pay the monthly fees for this web site. You can help support this site as well as get great tracking products! Thank you!
Also visit these fine stores for more products of interest:

NDN Pride shop - For Indian Pride items for all tribes. Custom items available on request.

ASL Signs of Love - For anyone who uses or is learning ASL, American Sign Language. Custom name items and more are available here.

Sales from all stores give commissions to Beartracker's Animal Tracks Den, which helps keep this site online as a free service. We are celebrating ten years online this year!




Got a quail story? E-mail me and tell me about it.
Back to Animal Tracks of Humboldt County
Copyright © 1997-2008. Text and drawings by Kim A. Cabrera