Pacific Treefrog


Pacific Treefrog Tracks
Click to hear the treefrog croak.



Natural History of Pacific Treefrogs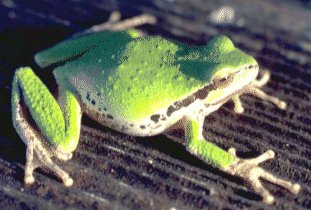 The Pacific treefrog is a small frog common in California, Oregon and Washington. In the spring, their calls are commonly heard near riparian areas. They are the only western frog whose call is a ribbit. Their toes have little rounded toe pads on them. These help the frog to climb and stick to things. Pacific treefrogs can be either green or tan in color, but all have a dark eye stripe. Eggs are laid underwater, attached to vegetation, in clumps about an inch in diameter. The tiny eggs are visible as dark dots in the jelly-like egg mass. As they develop, you can see the tiny tadpoles grow tails. When they are about ready to hatch, the tadpoles will start to squirm inside the egg mass.
Treefrog tracks sometimes show the outline of the animalís entire body. They move about by hopping. You will find all four feet and sometimes even the impression of the frogís belly in the tracks. Look for their tracks near water. I have even found them in sand dunes near the ocean, although the frogs did not go into the salt water. Hind feet are larger than the front ones and show five toes. Front feet are turned inward and have four toes.



Personal Notes on Pacific Treefrogs

Everywhere I have lived in California, I have heard these frogs. They are common and very pleasant to listen to on warm evenings. I find their egg masses in roadside ditches on old logging roads and in small puddles everywhere. The tiny eggs are no bigger than a grain of rice. The whole mass would fit in a teaspoon. It's neat to watch the little tadpoles grow inside their jelly cases. When they start looking like tadpoles, you can gently nudge the egg mass and they will squirm around inside. Don't be too rough with the egg mass though. You don't want to damage them.
I've moved the egg masses from puddles that were in danger of drying up. I put them in larger bodies of water so they'll have a chance of surviving. If you do this, be very careful to attach the mass to something so it doesn't wash away. When you find the mass, it's probably attached to a stick or something. Try to move the anchor with the mass if possible. I wouldn't move one unless it was in danger of being destroyed or dried out.

I think all treefrogs are fascinating creatures. The Pacific treefrog can be either green or a tan color, but they always have that eyestripe.
Find treefrog posters, greeting cards, t-shirts, hats, and more in my new store.
Now available: "Animals Don't Cover Their Tracks - An Introduction to Animal Tracking" on CD! (Version 3.0) New drawings, more species, more photos, more extensive sections on tracking humans, more detailed directions for plaster casting, mystery tracks section, tracking stories section, and more. The CD features over 100 species, including special bonus sections with the tracks of some African and Australian animals. A large section on tracking lost people for search and rescue is included, with over four pages of photos showing the details of tracks and signs people leave. Easy to use format. This web site is limited by bandwidth, but the CD-ROM is not. The CD is available in my online store at: www.dirt-time.com Works with Mac or PC. Happy tracking!!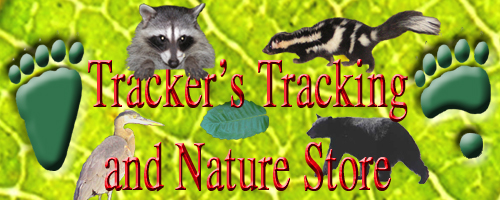 What else can you find in the nature store? Beartracker's animal tracks coloring book, T-shirts, sweatshirts, journals, book bags, toddler and infant apparel, mouse pads, posters, postcards, coffee mugs, travel mugs, clocks, Frisbees, bumper stickers, hats, stickers, and many more items. All with tracks or paw prints, or nature scenes. Custom products are available. If you don't see the track you want on the product you want, email me and I can probably create it. Proceeds from all sales go to pay the monthly fees for this web site. You can help support this site as well as get great tracking products! Thank you!
Also visit these fine stores for more products of interest:

NDN Pride shop - For Indian Pride items for all tribes. Custom items available on request.

ASL Signs of Love - For anyone who uses or is learning ASL, American Sign Language. Custom name items and more are available here.

Sales from all stores give commissions to Beartracker's Animal Tracks Den, which helps keep this site online as a free service. We are celebrating ten years online this year!





Got a frog story? E-mail me and tell me about it.
Back to Animal Tracks of Humboldt County
Copyright © 1997-2008. Text and drawings by Kim A. Cabrera
Treefrog picture by Jef Poskanzer.