Wild Turkeys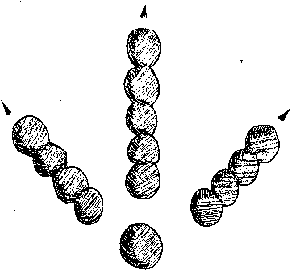 Wild Turkey Track
Click here to hear a turkey gobble. (36K WAV)



Natural History of Wild Turkeys

Wild turkeys are native to the southeastern United States. They have been introduced in many parts of the west, including California. They prefer oak woodlands, but are found in grasslands and pine forests as well.
They are swift runners and are wary of people.
Turkeys are polygamous. The male struts with his tail fanned to attract a harem. (See pictures below.)
Where they naturally occur, wild turkeys were used by Native Americans as food. Some tribes refused to eat turkeys, believing that the birds were stupid and cowardly. The people feared that eating the birds would cause them to acquire some of these characteristics.
Turkeys lay eight to ten buff colored eggs with brown spots. Eggs are laid in a shallow depression in the ground, lined with grass and leaves. The typical call is a gobble.




Personal Notes on Wild Turkeys

I have seen wild turkeys frequently. When I attended a recent tracking class at Henry W. Coe State Park in California, I camped in the park. The wild turkeys would call every morning and we would see them walking right by the campground. The males fan their feathers and call to the females. On the property I caretake, turkeys are sometimes seen in the trees. I often hear them call from the tops of trees. For such a large bird, they can be difficult to see through the foliage. My cats watch the turkeys in fascination. Obviously the biggest bird they've ever seen!

Here are some pictures of the turkeys that live in my "back yard."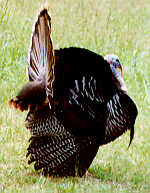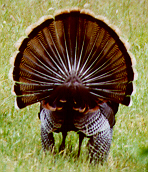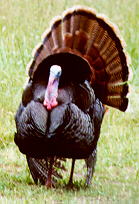 Find turkey posters, greeting cards, t-shirts, hats, and more in my new store.
Now available: "Animals Don't Cover Their Tracks - An Introduction to Animal Tracking" on CD! (Version 3.0) New drawings, more species, more photos, more extensive sections on tracking humans, more detailed directions for plaster casting, mystery tracks section, tracking stories section, and more. The CD features over 100 species, including special bonus sections with the tracks of some African and Australian animals. A large section on tracking lost people for search and rescue is included, with over four pages of photos showing the details of tracks and signs people leave. Easy to use format. This web site is limited by bandwidth, but the CD-ROM is not. The CD is available in my online store at: www.dirt-time.com Works with Mac or PC. Happy tracking!!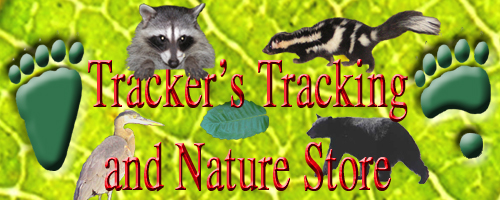 What else can you find in the nature store? Beartracker's animal tracks coloring book, T-shirts, sweatshirts, journals, book bags, toddler and infant apparel, mouse pads, posters, postcards, coffee mugs, travel mugs, clocks, Frisbees, bumper stickers, hats, stickers, and many more items. All with tracks or paw prints, or nature scenes. Custom products are available. If you don't see the track you want on the product you want, email me and I can probably create it. Proceeds from all sales go to pay the monthly fees for this web site. You can help support this site as well as get great tracking products! Thank you!
Also visit these fine stores for more products of interest:

NDN Pride shop - For Indian Pride items for all tribes. Custom items available on request.

ASL Signs of Love - For anyone who uses or is learning ASL, American Sign Language. Custom name items and more are available here.

Sales from all stores give commissions to Beartracker's Animal Tracks Den, which helps keep this site online as a free service. We are celebrating ten years online this year!




Got a wild turkey story? E-mail me and tell me about it.
Back to Animal Tracks of Humboldt County
Copyright © 1997-2008. Text and drawings by Kim A. Cabrera
Turkey photos copyright © 1997 by Kim A. Cabrera